Blackmagic Design

At VidCom we have been professional broadcast specialists for over 30 years. We definitely understand your capture, conversion, encoding needs and more. We are proud to represent Blackmagic Design products for your pro video equipment needs.

Broadcast Converters & Mini-Converters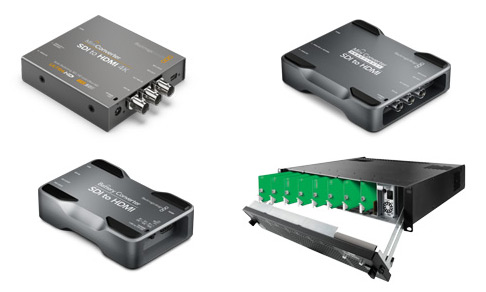 Mini Converters
Incredible quality broadcast converters that are simple to use!
Mini Converter Heavy Duty
Super strong machined metal mini converters for live production!
Battery Converters
Tough machined metal converters with built in battery for live events!
OpenGear Converters
Broadcast quality industry standard rack converters.
Capture, Playback for Thunderbolt and USB 3

The highest quality capture and playback solutions for your Thunderbolt™ computer!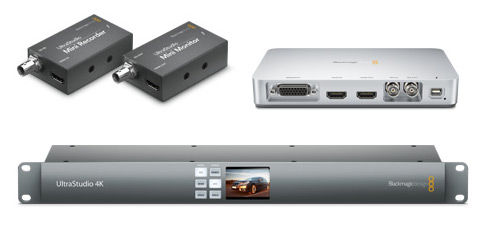 UltraStudio 4K
Thunderbolt or Thunderbolt 2 capture and playback, Dual Link 6G-SDI, HDMI, Analog, 4:4:4, 3D, compatible with SD, HD, Ultra HD and 4K.
UltraStudio Express
Thunderbolt powered capture and playback with SDI, HDMI, analog, with pro and consumer cables.
UltraStudio Mini Monitor and Mini Recorder
Pocket sized Thunderbolt powered recording or playback for SDI and HDMI.
Capture and Playback for PCI Express

DeckLink
Advanced PCIe capture cards for broadcast, post production and feature film. Get innovative 6G-SDI, 3D and Ultra HD!
Disk Recorders

HyperDeck Shuttle
Portable battery powered SSD recorder with SDI and HDMI
HyperDeck Studio
Rack mount SSD based deck with dual slots for infinite recording.




Teranex & Standards Conversion

Teranex Express
The world's first 12G-SDI real time SD, HD and Ultra HD up and down converter with embedded audio, closed captions, timecode and more!
Teranex 2D and 3D Processor
The worlds most advanced standards converters with up, down, cross, standards conversion, noise reduction and more! Thunderbolt included!


Plus the full line of Blackmagic Design products including the 4K Camera URSA.
http://vidcom.ca/blackmagic-design-ursa-first-upgradeable-4k-camera/



To purchase or possibly rent Blackmagic Products
Call us: 604.732.9711
We'd be happy to talk to you about all the great products Blackmagic offer.


—————————

or you can contact us here: